Angel Blog
Top 5 Jewelry Buying Tips: How to Buy the Perfect Gift for Any Occasion
by Vanessa Poulson on Mar 14, 2023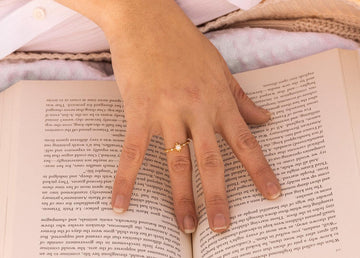 Jewelry is an investment that often holds sentimental value, whether it's a gift for a loved one or a treat for yourself. But with so many options available, it can be overwhelming to know where to start. Here are our top 5 jewelry buying tips to help you find the perfect gift for any occasion:
Set a Budget
---
Before you start shopping, set a budget for yourself. This will help narrow down your choices and keep you in a desired price range. You don't want to end up with a piece of jewelry that you can't afford or that you would regret buying. A budget will also help you determine what type of jewelry you should be browsing. If you have a large budget, solid gold pieces and diamonds are a lady's bestfriend. However, if you have a more conservative budget, you might want to browse high quality alternatives. To learn more about which alternative is best for you, check out our blog on Gold Alternatives.
Choose a Reputable Jeweler
---
When purchasing jewelry, it's important to buy from a reputable jeweler who you can trust. Look for jewelers with a long-standing reputation for quality and customer service. You can also ask for recommendations from family and friends, or do your research online by reading reviews and checking the jeweler's credentials.
Consider the Occasion
---
When choosing jewelry, consider the occasion for which you are buying it. Is it for a special occasion like a wedding or anniversary, or is it for everyday wear? The occasion will help you determine what type of jewelry to buy, such as a diamond engagement ring or a simple, yet versatile pendant necklace. 
Shopping for an anniversary present? Get her something thoughtful, like an engraved piece or a symbolic one. For example, you could get her a necklace or bracelet with a cute note engraved, a necklace that has a stone for every year you've been together, or a ring that has the stone of the month you met or got married. 
Shopping for a mother's day present? Get her something that reminds her of her kids. Maybe that's a necklace with a personal engraved message or one with pendants representing each child.
Shopping for a birthday present, Christmas present, or valentine's day present? Anything goes; go wild and get her something that speaks to you, that you think she'd love or get good use out of.
Consider Their Jewelry Taste
---
You should also consider the recipient's personal style and preferences. Here are a few questions to ask yourself to narrow down the type of jewelry you should be shopping for to ensure the recipient of your gift will love and cherish their new piece/pieces. 
Do they usually wear sterling silver, yellow gold, or rose-gold? A lot of people have a strong preference when it comes to their jewelry's finish so keeping this in mind will be essential to buying someone the perfect piece.
Do they like daintier pieces or chunkier ones? Most people like both, but depending on the person you're shopping for, they might have a stronger preference. Therefore, we recommend taking into consideration their personality and daily style when deciding whether to get them something dainty or chunky. For example, someone who usually wears simple pendant necklaces with small stud earrings would most likely prefer a dainty piece of jewelry, while someone who usually wears chain necklaces and statement earrings would most likely prefer chunkier pieces of jewelry. 
Shop Dainty Pieces
Shop Chunky Pieces
Look for quality
---
When buying jewelry, it's important to look for quality pieces that will last a lifetime. Check the quality of the metal, the gemstones, and the workmanship. Look for pieces that are well-crafted and have a good weight to them. 
If you are buying diamonds, consider the 4 Cs - carat weight, color, clarity, and cut - to ensure you are getting a high-quality stone. 
If you are buying gold pieces, consider karat weight - 14K (most durable, 58.3% pure gold), 18K (durable, 75% pure gold), 22K (less durable, 91.7% pure gold), or 24K (least durable, 100% pure gold) - to determine how durable and pure you would want the piece to be.
If you are buying a gold alternative, consider its durability and material composition to ensure you are still buying a high quality piece that can last your recipient a lifetime. To learn more about gold alternatives, check out our blog on Finding the Perfect Alternative to Sold Gold Jewelry.
Trust your instincts
---
Finally, trust your instincts when purchasing jewelry. If you find a piece of jewelry that speaks to you, go for it! Don't worry too much about trends or the nitty gritty details. Jewelry is a personal choice, and gifting jewelry is no different. Ultimately, you should choose a piece of jewelry that you love and believe your loved one will cherish for years to come.
In conclusion, purchasing jewelry can be a fun and exciting experience, but it's important to take the time to make the right decision. Set a budget, choose a reputable jeweler, consider the occasion, look for quality, and trust your instincts. By following these tips, you'll be sure to find the perfect piece of jewelry that will bring you or your loved one joy for years to come.
Shop the Perfect Gift