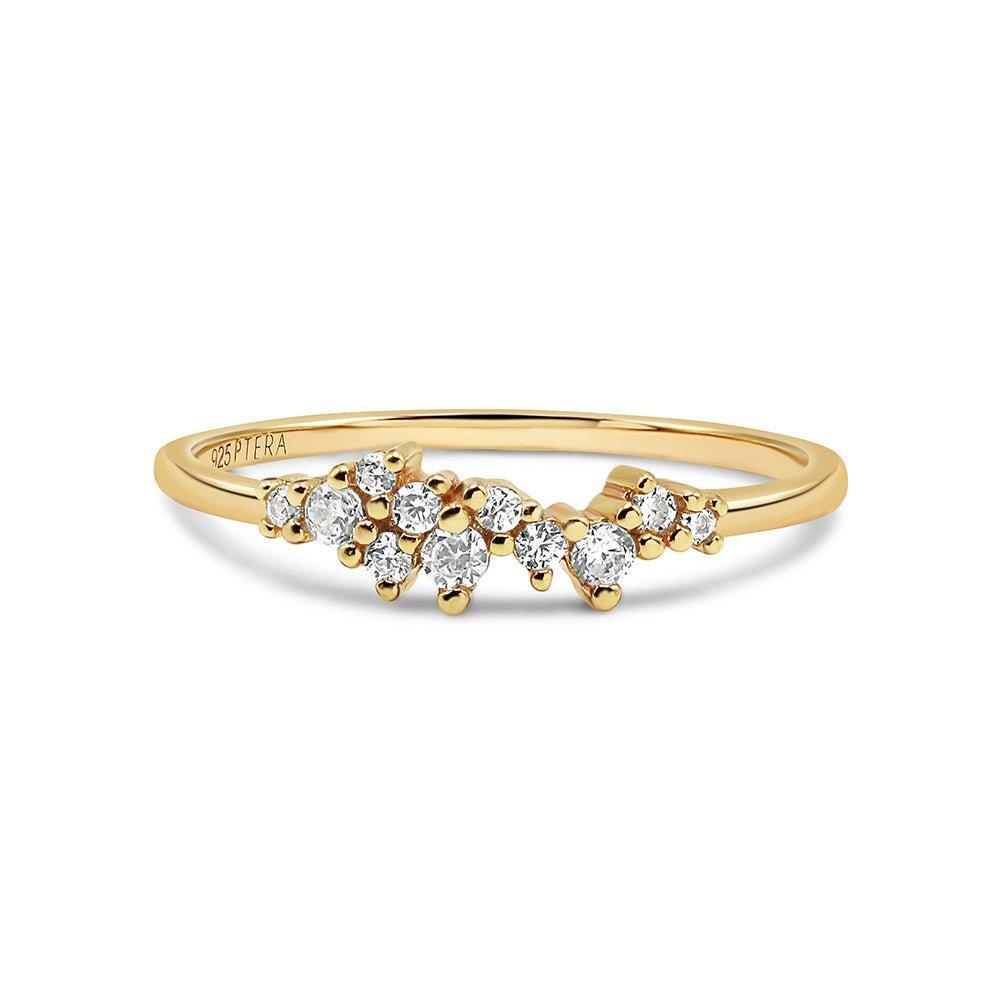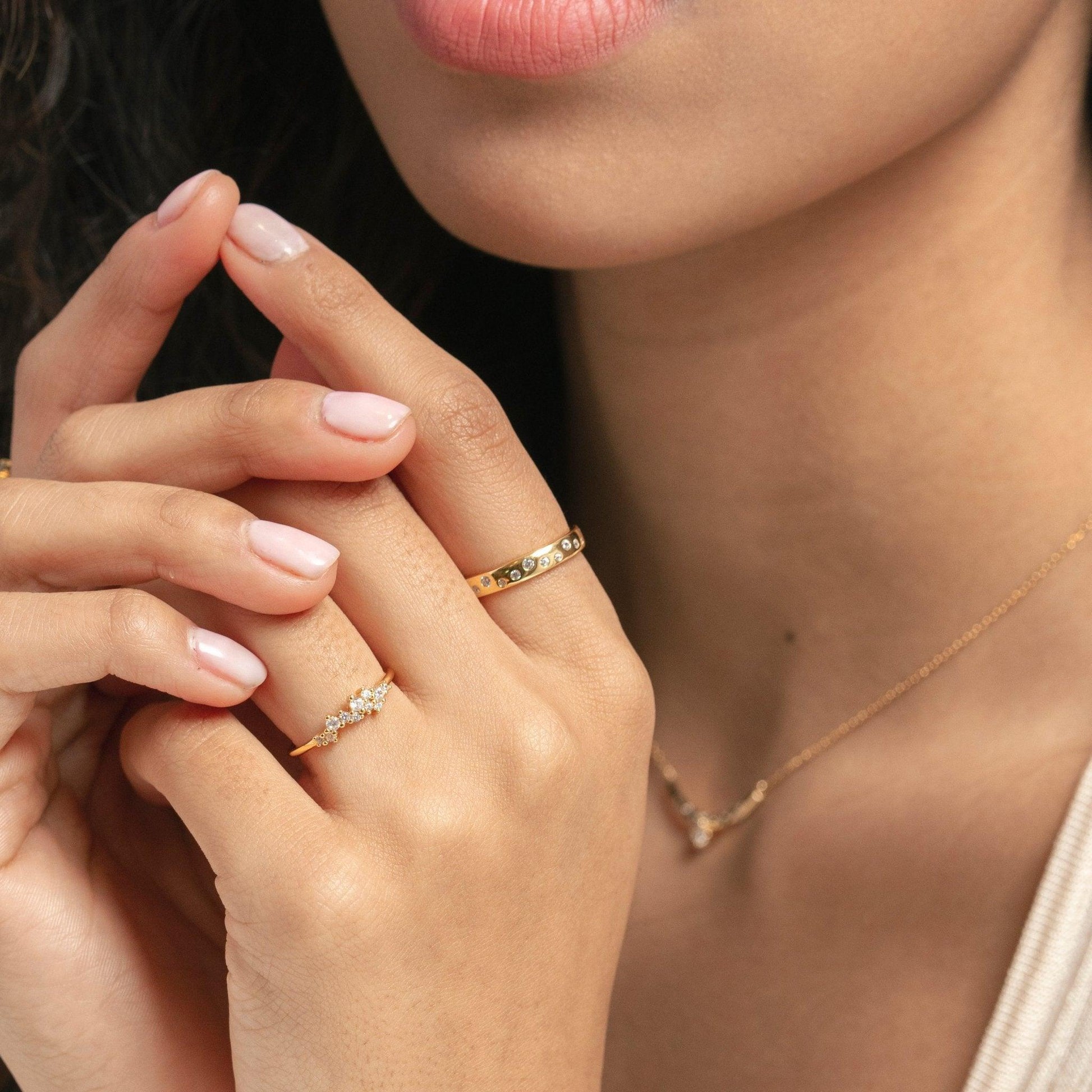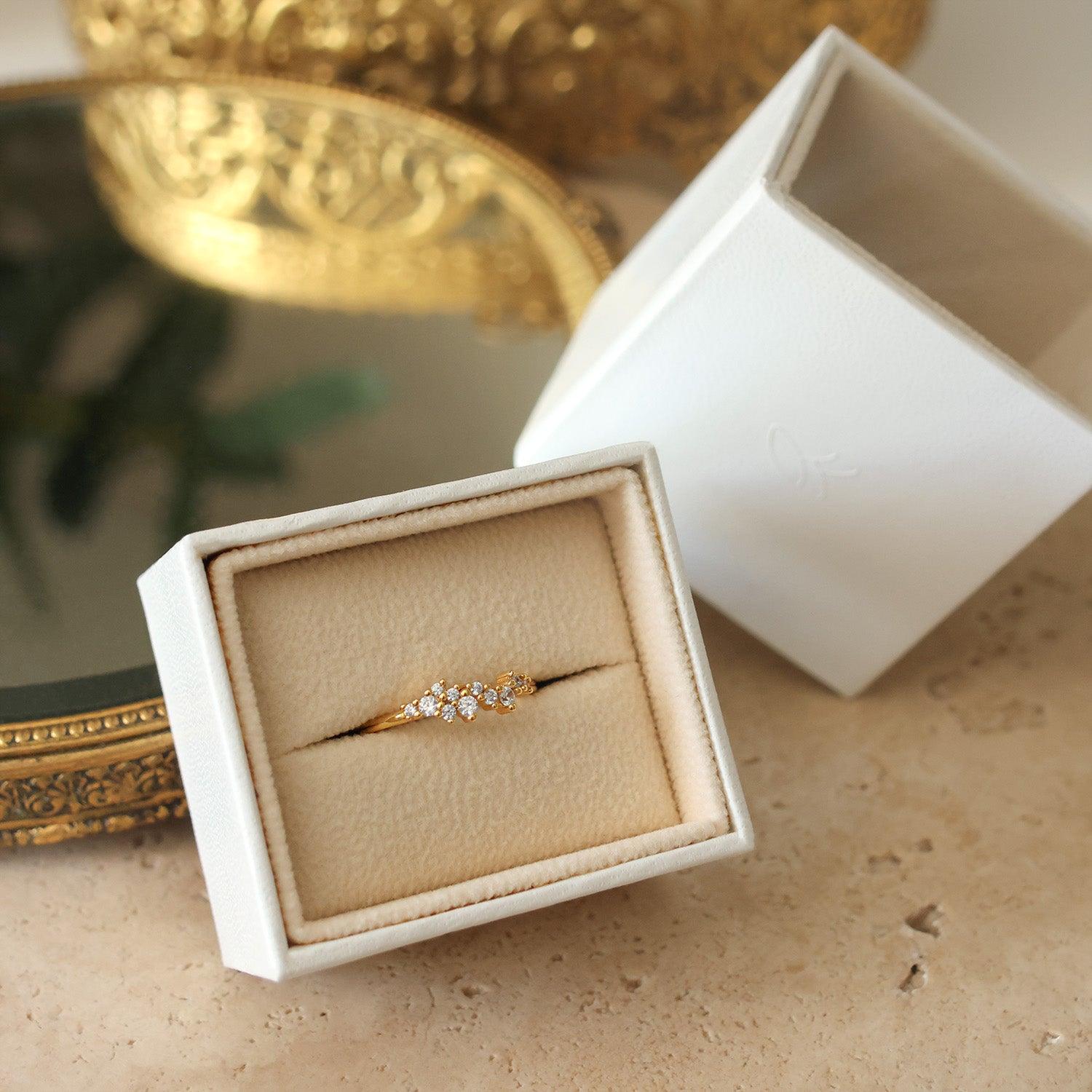 Upgrade your jewelry collection with our exceptional Abell Cluster Ring. Featuring AAA-grade cubic zirconia, this stunning 18K gold vermeil ring adds a touch of sophistication to any ring stack or shines as a standalone classic piece. Enjoy its hypoallergenic and tarnish-resistant properties, making it the ultimate staple for any gold jewelry lover.
Expected Delivery: Oct 01 - Oct 03
Free Shipping On Orders Over $20&nbsp
Free Size Exchanges&nbsp
30 Day Warranty&nbsp
Hypoallergenic &nbsp
Lead, Nickel, & Cadmium Free &nbsp
Buy Now Pay Later&nbsp
This 18K gold vermeil ring features a cluster of 11 round-cut 3A grade cubic zirconia stones.
• Metal: 18K Gold Vermeil
• Stones: 3A grade cubic zirconia crystals
Gold Vermeil Plating Technique
925 Sterling Silver Details
Returns/Exchanges
30 Day Warranty
Gold vermeil jewelry is a stunning option that combines the luxurious allure of gold with the affordability and durability of other metals. While gold plating is often associated with lower-cost alternatives, producing high-quality gold vermeil jewelry requires a meticulous and refined plating technique.
1. Selection of Base Metal:
Sterling silver is the preferred choice of base metal due to its excellent compatibility with gold plating. The silver base provides a stable and receptive surface for the gold layer, resulting in a superior finish that accentuates the brilliance of the gold.
2. Thorough Cleaning and Polishing:
Before the gold plating process begins, the sterling silver components are meticulously cleaned and polished to ensure the absence of any contaminants. Ultrasonic cleaning and steam cleaning are used to remove dirt, oils, and residues, guaranteeing an immaculate surface for the gold application.
3. Precise Gold Plating Process:
Unlike traditional gold plating, where thin layers of gold are deposited, gold vermeil requires a more substantial gold layer. A carefully balanced gold solution is prepared, which typically contains a higher concentration of gold. This specialized solution ensures a luxurious, long-lasting layer of gold that will not tarnish or wear off easily. Skilled artisans carefully immerse the cleaned silver components into this gold solution and apply an electric current to facilitate the deposition of gold particles onto the surface. The plating process is repeated multiple times to achieve our desired thickness of 2.5 microns.
5. Polishing & Sealing:
For extra protection, we use an advanced coating technique that ensures the beauty of our pieces. This process is then followed by polishing to enhance the jewelry's overall appearance and luster.
Sterling silver jewelry is a timeless and classic choice, but over time, it may tarnish and lose its shine. To combat this, we utilize an advanced rhodium plating technique that is followed by polishing and protective coating, enhancing the durability and beauty of our sterling silver pieces.
1. Thorough Cleaning and Polishing:
Before the plating process begins, the sterling silver pieces are thoroughly cleaned to remove any dirt, oils, or contaminants that might hinder proper adhesion.
2. Rhodium Plating:
Rhodium, a precious metal from the platinum group, is renowned for its brilliant white color and exceptional resistance to corrosion and wear. In plating the silver jewelry is submerged in a rhodium electroplating solution. An electric current is then applied, causing rhodium ions to bond with the surface of the silver. This creates a thin but protective layer of rhodium, which transforms the silver's color to a brilliant white and provides a protective barrier against tarnish and wear, preserving the silver's original shine for extended periods - as long as proper jewelry care is taken.
3. Protective Coating:
Following the rhodium plating, a protective coating is applied to the jewelry. This additional layer acts as a shield against everyday wear and tear, helping to maintain the rhodium's brilliance and ensuring the longevity of the jewelry. The protective coating serves as a barrier against scratches, environmental pollutants, and oxidation, safeguarding the sterling silver beneath and preserving the jewelry's pristine appearance.
Exchanges
We offer free size exchanges within 30 days of the delivery date.
To be eligible for an exchange, your item must be in the same condition that you received it, unworn or unused, and in its original packaging. 
To exchange your piece(s), contact us at support@pterajewelry.com and we will send you a return label. Please return your item(s) within 7 days of creating the pre-paid label.
After receiving and inspecting your piece(s), we will send you your new item(s) if the exchange is approved. If not approved, you will need to pay for shipping to send the item(s) back to you. 
Returns 
To be eligible for a return, your item must be in the same condition that you received it, unworn or unused, and in its original packaging (replacements, final sale items, gift cards, and custom orders aren't eligible for a refund). Please note a 10% restocking fee will be deducted from your refund amount. 
Access our hassle free return portal through your customer account or contact our customer care team with your order number at support@pterajewelry.com. 
Please return your item(s) within 7 days of creating the pre-paid label for a valid return.
After receiving and inspecting your return, If approved, you'll be automatically refunded on your original payment method within 10 business days. Please remember it can take some time for your bank or credit card company to process and post the refund too. If more than 15 business days have passed since we've approved your return, don't hesitate to get in touch with us at support@pterajewelry.com.
Happiness Warranty
Your Ptera pieces are covered for 30 days! If you experience any metal or gem/crystal issue, please contact our customer care team with a description of the issue and a picture at support@pterajewelry.com and we will help resolve the issue.