Angel Blog
Your 2023 Valentines Day Jewelry Gift Guide
by Vanessa Poulson on Jan 22, 2023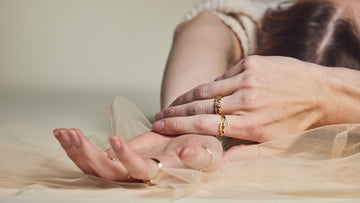 Valentine's Day is quickly approaching, and if you're looking to surprise your partner with a special piece of jewelry, there are a few things to remember.
Choose Pieces She'll Actually Like
---
First, consider her personal style. Does she prefer dainty, delicate pieces or bold, statement jewelry? Does she gravitate towards gold or silver? Does she like simple, classic designs or more trendy, contemporary styles? Answering these questions will help you narrow your options and choose a piece of jewelry she'll love.
Make Your Valentines Day Gift Purposeful
---
Next, think about the occasion. Is this a special milestone in your relationship, such as an anniversary or engagement? If so, you may want to go for something more significant and sentimental, like a ring or a necklace with a special message. On the other hand, if you're just looking to surprise her with a thoughtful Valentines Day gift, a matching jewelry set may be the perfect choice. You can also choose to keep it simple with a nice pair of earrings or bracelet.  
Get Her Jewelry She Can Treasure Forever
---
Another thing to consider is the quality of the jewelry. When it comes to buying jewelry, it's best to invest in high-quality pieces that will last for years to come. If your looking to invest in the very best, nothing beats solid gold or platinum. However, these options can get pretty pricey and if your budget doesn't allow for for it, Sterling Silver, Gold-Filled, and Gold Vermeil are great alternatives.
When you're ready to buy the jewelry, shop somewhere specializing in high quality jewelry, like us here at Ptera. We make sterling silver and 18k gold vermeil jewelry. Our gold vermeil jewelry allows us to provide you with high quality pieces at affordable prices. Unlike average gold plated jewelry, gold vermeil is made of sterling silver plated with a thick layer of gold that is 5X thicker and more durable. Meaning 100% of our jewelry is hypoallergenic, precious, and meant to outlast cheap, overpriced, gold plated jewelry made of copper or brass.
Skip the Flowers and Surprise Her With Natural Gems
---
Make her feel like a princess this Valentines Day by gifting her a piece with natural gemstones. There are countless ways to show your affection, but few are as timeless as precious stones. Keep it safe and shop for a piece that has her birthstone or surprise her with a unique piece she'll keep close to her heart for years to come.  
Secure a Good First Impression With the Jewelry's Packaging
---
And last, but certainly not least, don't forget to make sure the jewelry comes with a gift wrapping or a gift box, it will make for a more memorable gift.
Choosing the perfect gift for your girlfriend or wife on Valentine's Day can seem like a daunting task, but by considering her personal style, the occasion, and the quality of the jewelry, you'll be able to pick out a gift that she'll love and treasure for years to come.
Happy Valentine's Day!